Commercial Construction
PCX Flexible Solutions for the Commercial Construction Market
---
PCX FLX-Power integrated switchboards and FLX-EDC systems are the preferred choice for Commercial Construction market. PCX electrical and mechanical systems are integrated, tested, and packaged offsite in Clayton, NC. Prebuilt Modules provide higher quality, shorter lead times, and lower costs (Total Cost of Ownership) needed this competitive market.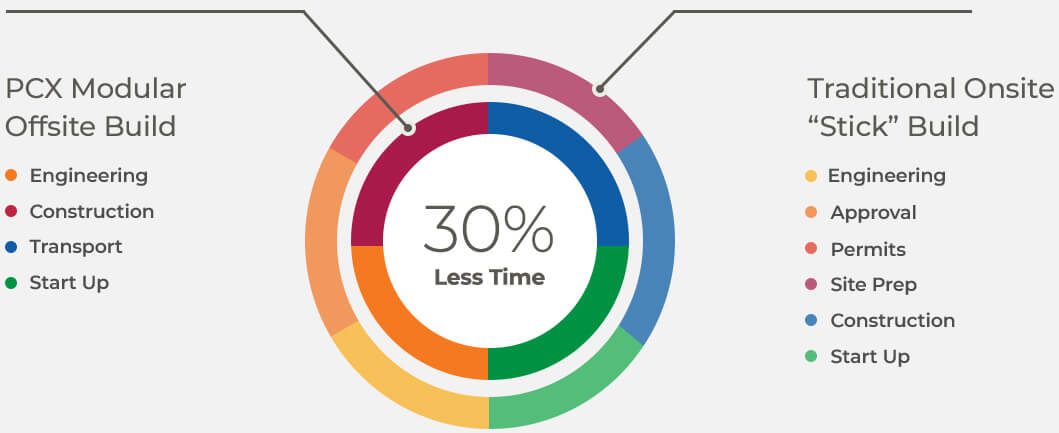 PCX is a leading manufacturer and early provider of prefabricated electrical power distribution equipment to the Commercial Construction market. The Commercial Construction market involves the sale of products and services to end users and public and private companies, but does not include the government, manufacturers, distributors or OEMs. In aggregate it includes big-box stores, supercenters, large retail chains, mixed use, retail centers, department stores, malls, grocery, dry goods, retail stores, hospitality, restaurants, airports, travel plazas, university dining halls, fitness centers and hotels.
This market tends to grow with the economy, but fluctuations in the economy, geographic developments, wars, and economic booms make it highly competitive and prone to ups and downs.
Perhaps this is the reason the Commercial Construction Market recognized the advantages of prefabrication and modularization and became an early adopter. Commercial Construction was and remains a strategically important target market for PCX.
Reducing costs and lowering prices was always a major differentiator in this market, and was somewhat mitigated with the PCX "Delivering Predictive Profitability®" mission. PCX's prebuilt FLX-Power™ integrated switchboards and electrical distribution panels pioneered this space and helped prove without a doubt the value proposition of flexible modular design delivered to owners on specification and in less time.