Prefabricated Electrical Distribution Centers
PCX Prefabricated Electrical Distribution Centers (EDC) build on PCX FLX-Power integrated switchboards with expanded functionality for larger projects. EDCs have increased power demands requiring more application considerations, features, and functionality usually employed in large institutions and factories.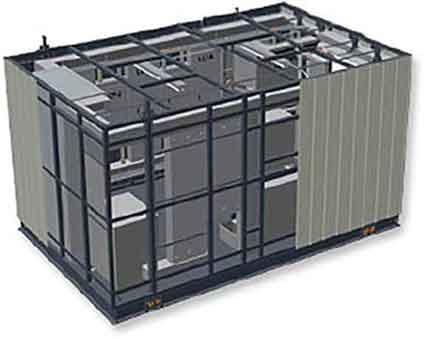 Prewired and built in our factory they are UL listed and modular designed for most efficient use of space with less project cycle time than onsite stick built custom configurations. PCX EDCs offer advantages of early access to permanent power, reduced field labor and change orders resulting in a predictive cost and schedule. FLX-EDCs are compact and can be designed for stacking and fitting into ever-shrinking space requirements.
An Electrical Distribution Center (EDC) typically ships in a single weatherproof assembly ready for power, and complete with a lockable door. All of the electrical equipment is prewired and terminated, facilitating early permanent power in most jurisdictions across the country.
For over 25 years PCX has remained a leading supplier of comprehensive electrical distribution systems in the Commercial Construction and Industrial/Utility markets. PCX knowledge of the electrical switchboards, power panels, metering equipment, transformers, switches and breakers, power conditioning architecture coupled with expertise in systems integration provide a competitive advantage in designing and delivering power distribution systems that support a full range of complex functions. Best practices are utilized to optimize system design and maximize value.
Scalable and UL-Listed Electrical Distribution Centers
Take advantage of a space-saving, scalable and UL Listed quality prefabricated PCX FLX-EDC Electrical Distribution Centers built offsite in controlled environment to your design requirements. All electrical equipment is prewired to the fullest extent.
Transient Voltage Surge Suppressors
System Backboards
Power Conditioners
Uninterrupted Power Supply Systems (UPS)
Automatic Transfer Switches
Motor Control Centers
VFDs
Integrated Wheels (option)
Utility Compartments
Metering Equipment
Switchboards
Power Panels
Lighting & Appliance Panels
Transformers
Safety Switches/Enclosed Circuit Breakers
Phase Loss Monitors
Energy Management Products