Power Equipment Centers
PCX FLX–PEC™ prefabricated Power Equipment Centers are electrical power distribution systems fully integrated into a custom enclosure ready for connection.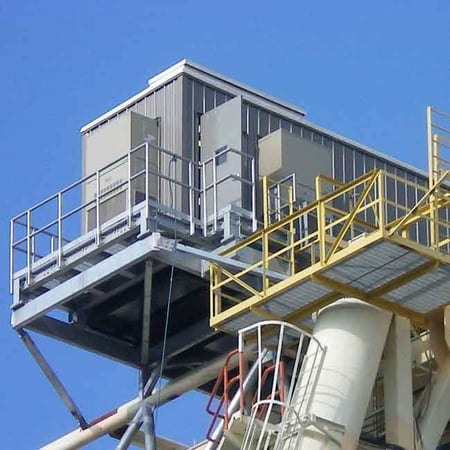 Manufactured in a controlled factory environment, a PEC is self-contained, wired, tested and engineered exactly to site specifications. All prefabricated modular units are designed to contain NEMA 1 electrical distribution equipment. Typical equipment could include low and medium voltage switchgear, motor control centers (MCC), transformers, UPS, battery storage, integrated switchboards, HVAC, fire, safety, communication, monitoring, lighting, security, and an array of other accessories. Standards and specifications are site jurisdiction specific and vary globally.
PCX's walk-in or non walk-in weather tight industrial electrical enclosures are designed for the most demanding applications where durability, weather ability and structural integrity are paramount. Special enclosures can be designed for seismic Zone 4 requirements, 150 MPH wind resistance, corrosive environmental conditions, and high snow loading.
Take advantage of the UL Classified Assembly
Power Equipment Center Equipment Installation
All electrical distribution and control equipment is prewired and tested and installed inside the electrical enclosure.
Construction Flexibility
The enclosure can be manufactured from a variety of materials to suit most site-specific conditions.
Minimized Foundation Requirements
The entire enclosure is self-supporting and integrated as one unit.
Simple Delivery, Storage and Installation
The enclosure arrives as one (1) single unit and can typically be unloaded in an hour or less. PCX's power equipment centers, by design, can be stored outdoors and installation involves a minimum number of skilled trades.
Power Equipment Centers can accommodate the following:
Medium Voltage Gas Insulated Switchgear
5-38KV Metal Clad Switchgear
5-15KV Arc Proof Switchgear
5KV Motor Starters
Dry Type Transformers
Power Factor Correction Packages
DC Rectifiers
DC Switchgear
Battery Systems
UPS Systems
Protection and Control Panels
Panelboards and Switchboards